E-Newsletter
Carper's Connection
December 7, 2014
Dear Fellow Delawarean,
On December 7, 1787, Delaware's elected delegates gathered at the Golden Fleece Tavern in Dover and unanimously voted to become the first state to ratify the U.S. Constitution. Now, I like to imagine Delaware's Founding Fathers enjoying some hot chocolate on that chilly day, but, whatever beverage it was, they made the right decision! More than 200 years later, our nation still enjoys the freedoms granted by that historic document. And our state enjoys that unique place in American history as "The First State" — something no other state can claim. On Delaware Day, we not only honor this special day for our state, but we also pause to honor the fallen heroes of the attack on Pearl Harbor on December 7, 1941.
Today, Delaware remains at the forefront of American ingenuity and progress. The success of Delaware's economy can be traced back centuries to the early gunpowder factories of Irenee DuPont to the Fortune 500 companies that light up Wilmington's skyline today. Delaware's a great place for small businesses and startups, too, and we haven't forgotten our agricultural roots. Delaware farmers are internationally renowned for their high quality corn, apples, and poultry.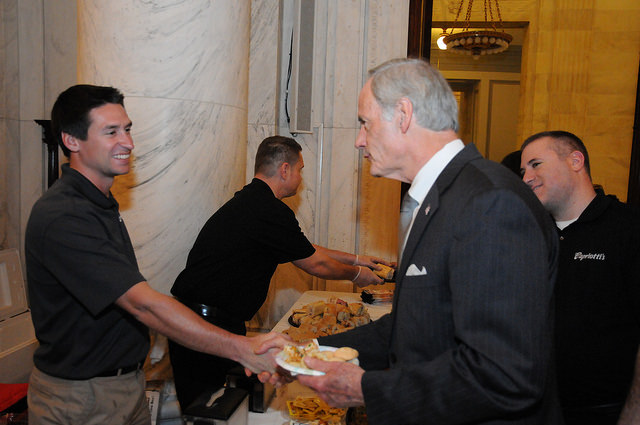 This week, I was able to take part in a special event showcasing some of the best food and beverages Delaware has to offer at the 4th annual "Taste of Delaware" reception in Washington, DC. The event was made possible thanks to the Delaware State Chamber of Commerce and my friend and fellow Delawarean, Senator Chris Coons. Each year more and more folks come out and rave about Delaware. It fills me with a lot of state pride, and I hope today you're feeling similar pride in our state's past, present, and future.

So on this Delaware Day, let us remember Delaware's Founding Fathers and cheers our hot chocolate to the First State and the United States that followed!

Cheers,