A testament to duty, dedication and sacrifices
Dear Friend, 
Yesterday, at Norfolk Naval Base, I had the honor of participating in the Change of Command Ceremony for the USS Delaware. The Change of Command ceremony is a complete transfer of responsibility, authority and accountability from one Naval officer to another. Over the years, I've been lucky enough to attend many of these ceremonies, especially at Dover Air Force Base. But yesterday's ceremony was a particularly special one. It was my first with the USS Delaware – the first Navy ship to be named after the First State since 1923 and the seventh vessel to bear its name overall.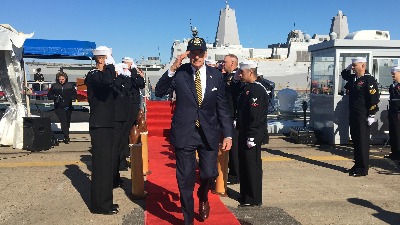 Yesterday, Captain Brian P. Hogan relinquished his authority to Commander Matthew Horton. Over the last several years, I've been honored to work with Capt. Brian Hogan to make sure the USS Delaware crew feels a connection to the First State – from welcoming crew members at NASCAR events to giving them a warm welcome on the University of Delaware's football field during a game. Capt. Hogan has shared my vision of ensuring the crew is proud to serve aboard a vessel named after the First State, the USS Delaware. For his years of service, Capt. Hogan has received the Meritorious Service Medal, four Navy Commendation Medals, and four Navy Achievement Medals. He has been a tremendous leader who has led by his example, and I want to thank him and his family for all that they have done to get the USS Delaware to this point.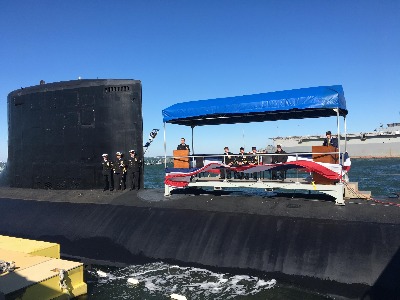 Delaware's long and proud naval history dates back to the Revolutionary War, when the Delaware Bay, just off the coast of Lewes, served as the staging ground for the Continental Navy's first marine mission in 1776. Last year, Delaware's role in the U.S. Navy came full circle with the christening of the USS Delaware — one of the world's most impressive vessels that can operate around the globe. That's why it was my honor to thank Capt. Hogan for his dedicated service while welcoming Commander Horton to our proud military family. Ours is a military family that already features a world-class airlift facility with world-class airmen at Dover Air Force Base; outstanding citizen-soldiers and airmen in the Delaware Army and Air National Guard; an important Coast Guard contingent at Indian River Inlet; and, of course, the more than 73,000 veterans who currently live in Delaware.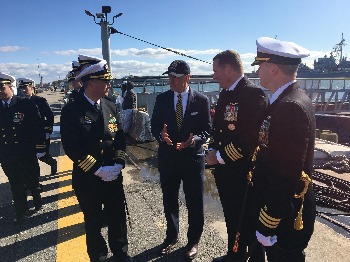 As a retired naval flight officer, I know what a great honor it is to have one of these incredible vessels named after Delaware. Seven years ago, Delawarean Steven Llanso brought this idea to the forefront when he wrote a letter to the editor of The News Journal, urging the paper to push for one of five newly announced submarines to be named after Delaware. I knew this was a worthy cause, and one that I, too, felt passionately about. Just one month later, our Congressional Delegation – Senator Chris Coons, then-Congressman John Carney and I – joined together to send a letter to Secretary of the Navy Ray Mabus that called on the Navy to name a submarine after the First State and followed that up with phone calls to Secretary Mabus further encouraging him to keep the First State in mind. Just six months later, we had our answer: a state-of-the-art submarine – one of the most modern and technologically advanced in the world – would be named the USS Delaware. A ship bearing our great state's name would, once again, set sail to serve and protect U.S. interests at home and around the globe.
The USS Delaware is a testament to the duty, dedication and sacrifices of these brave men and women, and all those who — for more than 200 years — have served their country in Delaware or in defense of the people of Delaware. I look forward to the USS Delaware's commission in April 2020 when it will be placed in active service and patrol the seas in defense of our nation and Americans everywhere.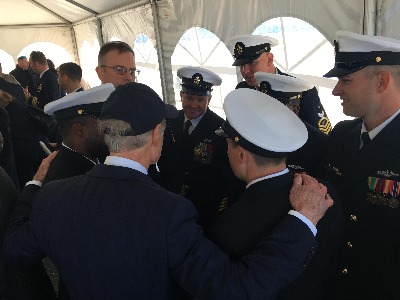 Our Constitution – first ratified by Delaware – is the most enduring and replicated constitution in the history of the world. But as revered as our Constitution is by all of us, it would just be words on a piece of paper without the courage and commitment of one generation of Americans after another who have been willing to step forward to serve their country in uniform, to risk their lives, and, in many cases, lay down their lives so that we might know the liberties that we enjoy today. Ahead of Veteran's Day, we honor a new era of leadership for the USS Delaware and a new generation of American sailors prepared to take this state-of-the-art submarine around the world over the next half-century in a continued effort to protect our democracy and preserve our planet.
Sincerely,
Tom Carper