Investing in Delaware's water infrastructure
Last month, when I welcomed the civilian leader of the Army Corps of Engineers, Assistant Secretary of the Army, R.D. James, to Delaware, we covered nearly the entire state. Driving south to north, I showed him the importance of our water infrastructure ? from the system of dunes that protect our beach communities, to the Port of Wilmington, to the waterways in and out of Delaware ? for our economy and nearly every community across the First State. Charged with overseeing or helping to manage 99 percent of our nation's 25,000 miles of inland waterways, thousands of miles of beaches and hundreds of ports, the Army Corps of Engineers is a vital partner for Delaware and every state to maintain our water infrastructure and keep our economy moving.
As the top ranked Democrat on the Senate's Environment and Public Works Committee, I'm charged with oversight of the Army Corps. And, every two years, our committee works together on a bill ? often called the Water Resources Development Act, or WRDA ? to reauthorize the Army Corps' work across the country, letting them continue their important work, while also making improvements to refocus Army Corps priorities and help states and local governments get more out of their water infrastructure investments.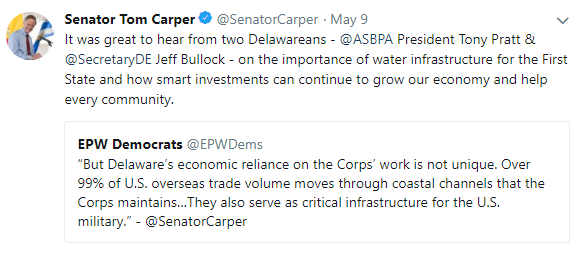 Earlier this week, after months of work with both my Democrat and Republican colleagues, we introduced a bipartisan bill, theAmerica's Water Infrastructure Act of 2018, reauthorizing the Army Corps and making improvements in water infrastructure in Delaware and across the country. On Wednesday, we held a hearing to publicly examine the bill, and I was pleased to welcome two Delawareans? Jeff Bullock, Delaware's Secretary of State, and Tony Pratt, President of the American Shore and Beach Preservation Association ? to hear more about how the bill would help make smart investments in our water infrastructure in Delaware, and in communities across the U.S.
In Delaware ? the lowest lying state in the country ? more than most other places, water infrastructure is vital to our economy. We may only have 23 miles of coastline, but our five-star beaches support $6.9 billion in economic activity each year as well as a full ten percent of our workforce. Along with being beautiful, our beaches also serve as natural infrastructure ? protecting our communities from rising tides and growing storm surge. Working with the Army Corps, we've renourished our beaches and dune systems as we've needed to over the past decade. But, with our bipartisan legislation, this process will be able to happen on a more regular basis by having the Army Corps create 5-year budgets and allowing Regional Commanders more control over project approvals in their region. Our bill also authorizes $150 million for the Army Corps to acquire a new "hopper dredge," increasing the Army Corps' capacity for the very beach nourishment projects Delaware relies on.
At the Port of Wilmington, we rely on regular dredging to keep the waterways clear for the more than six million tons of cargo that moves through the port each year. As Delaware prepares to expand the port and double its annual capacity, dredging and other waterway and port maintenance work with the Army Corps will become even more important. To help lay the groundwork for our port expansion, our bipartisan bill nearly triples the deposit limit for soil dredged by the Army Corps from the Delaware River. Modernizing our port and expanding its capacity means thousands more jobs across the state and hundreds of millions of dollars in economic activity for years to come.
By working across the aisle, we were able to craft a bill that makes smart investments in water infrastructure across the country, helping to create jobs and drive economic growth. The America's Water Infrastructure Act also makes much-needed investments in Delaware's water infrastructure to continue moving our economy forward. Because we continue to work together to move this bill through Congress, this bill has a better chance than most of becoming law. I hope my colleagues will use it as an example of how to promote our shared goals of fostering economic growth, being fiscally responsible and supporting good-paying jobs right here at home.