Moving backward on fuel economy standards
Earlier this week, President Trump announced that his administration will reconsider fuel economy standards that set average gas mileage for cars built between 2022 and 2025. These standards were the final piece in a successful Obama Administration effort to modernize America's auto fleet, and I'm disappointed in the President's backward-looking decision.
Ten years ago, I was proud to play a central role in approving the first updates to the law that sets fuel economy standards since 1975. Before our legislation was signed into law, American cars burned gas nearly twice as fast as they do today. Not only did our inefficient cars churn out pollution that contributed to climate change and increased our dependence on foreign oil, but they also cost Americans money – with cars that needed to be filled up twice as often. 
The fuel economy standards that came out of the 2007 legislation, combined with authority to reduce global warming pollution under the Clean Air Act, set gas mileage and emissions goals for all cars built between 2012 and 2025. The new standards were ambitious, but automakers, scientists and engineers quickly got to work, creating new technologies and innovative ways to rise to the challenge and build the cars of the future. Cars built between 2012-2016 met, and sometimes exceeded, the new standards and the returns were exactly as we expected – the auto industry created jobs investing in new, American technologies, the average American saved money on gas every day, and we reduced our demand on foreign oil – all while cutting billions of tons of global warming-causing pollutants.
All told, the new fuel economy standards were projected to have the ability to cut greenhouse gas emissions by 5.7 billion tons – that's the equivalent of taking every single car off our streets across the country for an entire year. They would also save Americans $1.7 trillion dollars in gas over the lifetime of the cars – that's more than the annual GDP of Canada, back into our pockets.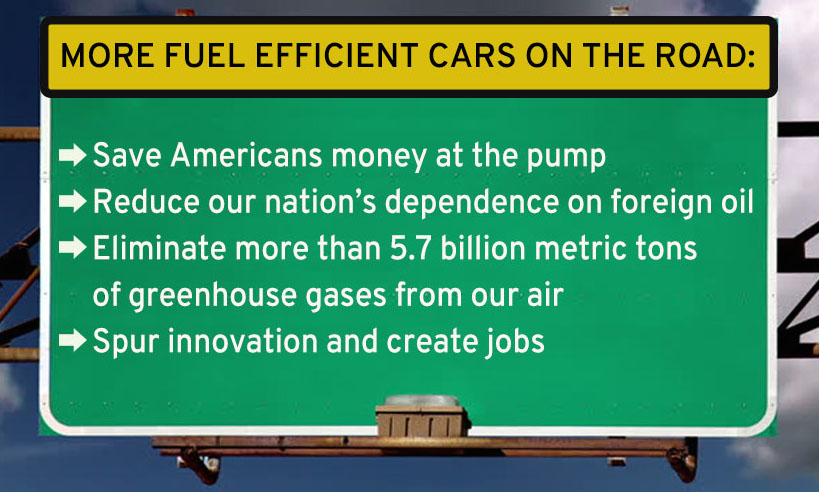 In Delaware, these standards were more important than most other states across the country. Delaware sits at the end of "America's tailpipe," with the prevailing winds across the midwest blowing all of their air pollution straight into Delaware. When I served as governor, we could have taken every single car off of our roads and cut every other source of air pollution in the state, and we still would not have met national air quality standards.
That's why I was so disappointed by the President's short-sighted decision this week to move backward from the progress we've made and reconsider the standards. This decision blatantly ignores how successful these standards have been at helping to drive American innovation and allowing consumers to drive further than ever before on a gallon of gas.
As we saw yesterday with the release of the President's budget blueprint, his administration does not hold a lot of respect for the basic protections Delawareans rely on to ensure our air is clear, our water is safe to drink, and our homes are free of toxic chemicals.
Rather than scrapping forward-looking standards and cutting the Environmental Protection Agency's budget by more than a third, we should be looking at innovative ways to continue getting better results for less money – all while protecting public health and helping us leave a better world for the generations to come. As Congress begins to debate funding for fiscal year 2018, I'll continue to push back on the President's reckless attacks on basic, common-sense health and consumer protections that benefit Delawareans.