My trip to Vietnam: a journey back in time, and a look into the future
Dear Friends,
For many Delawareans, Memorial Day means the kick-off to a summer season filled with sunny and fun activities. Whether you're enjoying the First State's five-star beaches or celebrating the holiday with a BBQ in the backyard, I want to wish you and your family a safe and special Memorial Day. But we all know the true meaning of this holiday is to give thanks for the sacrifices made by our troops, our veterans and their families.
This Memorial Day is an emotional one for me. Earlier this week, I returned to Vietnam with President Obama, decades after serving as a young naval flight officer in the Vietnam War. In 1991, a month after serving my last P-3 mission and retiring as a Navy captain, I led a bipartisan, six-member congressional delegation of Vietnam veterans back to Southeast Asia. It was during that first delegation, years before diplomatic relations were restored between the United States and Vietnam, when I witnessed a breakthrough emerge between the two countries.
We've come a long way in our relationship with Vietnam since I first visited Southeast Asia during the middle of a war that took 58,000 American lives and many more Vietnamese lives. Yet, somehow, we seem to have reached a point where both countries are prepared to let bygones be bygones and to look for ways to work together in ways that wouldn't have seemed possible not that many years ago.
I hope that you will take a moment to read my op-ed reflecting on my recent journey back to Vietnam, here and below – and I hope that you and your loved ones have a safe and happy Memorial Day.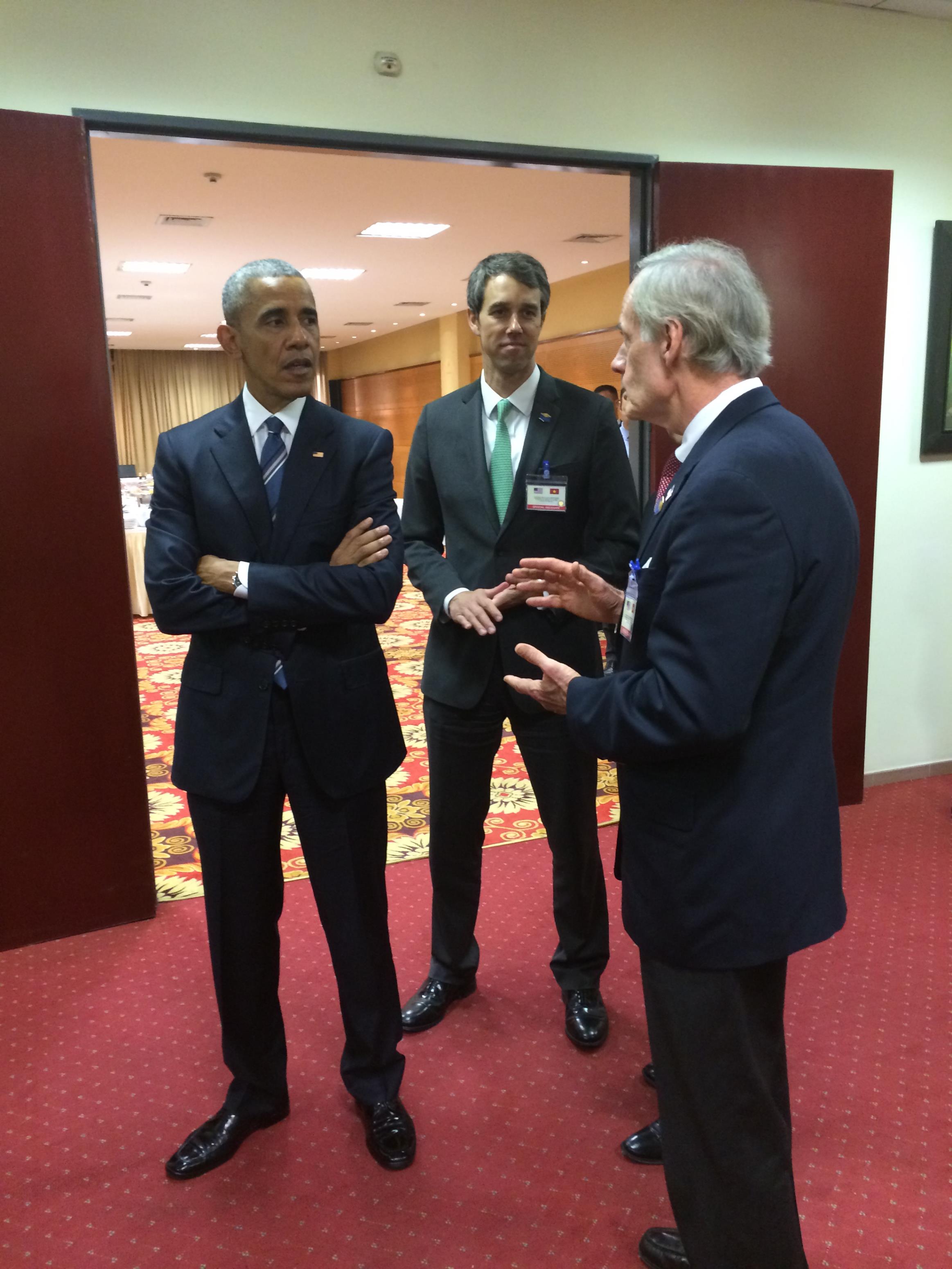 Earlier this week, I returned to Southeast Asia for the first time since 1998. It was both a journey back in time and a look ahead to the future of U.S. – Vietnamese relations. Decades ago, I came to this part of the world as a young naval flight officer on the first of three deployments with my squadron of Navy P-3 maritime surveillance aircraft, a unit of the Seventh Fleet.
We flew a variety of missions including low-level surveillance operations off the coast of Vietnam and Cambodia, searching for – among other things – infiltrator trawlers disguised as fishing boats attempting to resupply the Viet Cong in their efforts to overthrow our ally, the government of South Vietnam.
With the Vietnam war winding down, I completed my active duty tour in 1973, took a commission in the Naval Reserve and continued to fly for another 18 years as a P-3 aircraft mission commander until the end of the Cold War. Along the way, I moved to Delaware, earned an MBA there, was elected state treasurer at age 29 and, six years later, became Delaware's lone member of the U.S. House of Representatives.
Barely a month after flying my last P-3 mission in the summer of 1991 and retiring as a Navy captain, I led a bipartisan, six-member congressional delegation of Vietnam veterans back to Southeast Asia. Among our six members was Florida congressman Pete Peterson, a former Air Force pilot who was shot down over North Vietnam and spent more than six years as a POW in the "Hanoi Hilton." We went back in part because of the urging of veterans and veterans organizations who were convinced that hundreds – maybe thousands—of our MIAs were being held in captivity in that part of the world. We were also encouraged by the administration of George H.W. Bush. Our mission was twofold: first, find out what happened to the MIAs whose bodies were never recovered; and, second, try to meet with the incoming leader of Vietnam and explore with him the possibility of moving toward normalized relations over time if the fate of the MIAs could be resolved.
We began our ten-day mission in Hanoi. When it became clear after a few days there that the new leader was not ready to meet with us, we worked our way south to Saigon, or Ho Chi Minh City, before going on to Cambodia and Laos. During our two days in Cambodia, a criminal ring was uncovered there, trying to extort money from American families by using photos that originally appeared in Soviet news publications and asserting that they were American POWs. Those photos found their way to the covers of Time and Newsweek and ran on the front pages of every major newspaper in America fanning the belief that many of our missing were still alive.
After meeting with leaders and others in Cambodia and Laos, we headed back to Saigon for a final round of meetings and interviews before preparing to depart for the States. On the morning of our departure, though, we received a call from Hanoi saying that the General Secretary Do Muoi could meet with us that day if we'd stop by Hanoi on our way home. We told them, "We're on our way!"
That day, we met with Do Muoi in a spacious drawing room of a lovely house in Hanoi. Staffed by only a couple of aides, he greeted us warmly, and I began to introduce each of my colleagues to him. Some good staff work had turned up a number of similarities in the backgrounds of Do Muoi and one of our congressmen, Wayne Gilchrist of Maryland. I mentioned as much to Do Muoi, explaining that both of them had painted houses in their youth and later became teachers. I went on to say that they both had served as soldiers in combat, had been seriously wounded in combat and survived. Finally, I pointed out that both of them had sought and won leadership positions in the governments of their respective countries.
By then, Do Muoi had begun to focus intently on Wayne who was sitting among the rest of us some ten feet from the General Secretary. The Vietnamese leader then asked Wayne where he'd been shot, and Wayne explained that the bullet entered above his heart and emerged above his shoulder blade. Do Muoi went on to ask, not once, but twice, if he could see the wound. Wayne remained seated, speechless like the rest of us. Then, Do Muoi got up from his chair, walked slowly across the room, leaned down and gently pulled Wayne to his feet. He proceeded to lift the back of Wayne's loosely fitting shirt to expose the still-ugly scar. Do Muoi then traced its circumference with his finger, pulled Wayne's shirt back down and embraced him, creating one of the most emotional moments of my life, and bringing with it an opportunity for an unexpected breakthrough.
After we had regained our composure, we sat down with the General Secretary and began reviewing with him the roadmap to normalized relations that the Bush administration had given to us just in case a moment like that presented itself. The roadmap first called on the Vietnamese – who were meticulous record keepers – to provide access to Vietnam's war museum records as well as to its archives to our investigators so that they might search for clues to help resolve the mysteries of our MIAs disappearance. The roadmap called for the U.S. to restore telecommunications with Vietnam if they would take this preliminary step. With the strong encouragement of our six member delegation and the tireless efforts of Senators John McCain and John Kerry, the Vietnamese decided to take the step and, after they had done so, telecommunications were restored between our two countries.
Later, the Vietnamese would take many additional steps providing, for example, information about crash sites and access to them. Hundreds of excavations followed, along with the ability for our investigators to interview a large number of eye witnesses across the country to gain valuable firsthand accounts, and our country aided Vietnamese in efforts to gain closure for a number of their own families whose loved ones remains had never been recovered. With each step that the Vietnamese took, the U.S. reciprocated. Do Muoi' s concerns that the U.S. might somehow move the goal posts faded away, and a more trusting relationship between our two countries began to emerge.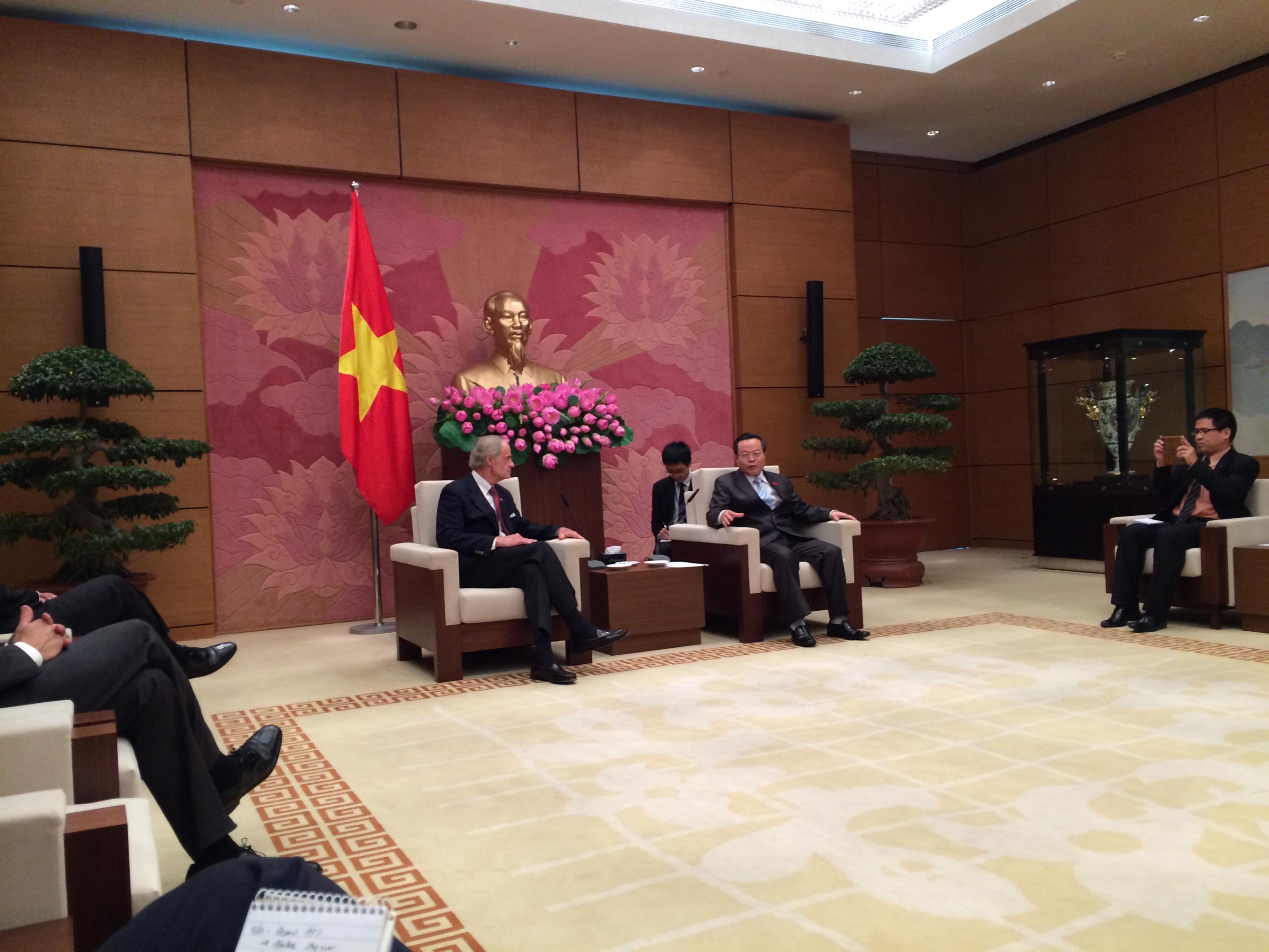 In 1995, diplomatic relations were restored. Three years later, I would lead a trade delegation from Delaware to Vietnam and several other Asian countries. As we stepped off of our plane in Hanoi, we were greeted by our new ambassador, former Congressman Pete Peterson! In 1995, full diplomatic relationships were established between our two countries, with Senators McCain and Kerry again leading the way.
Since then, trade between our two countries has grown dramatically. America is now the number one export market for Vietnamese products. American exports to Vietnam have risen, but not as strongly. When talks began several years ago about the possibility of forming a new trading bloc that would stretch from the Americas to Australia, Japan and Malaysia, Vietnam signaled its strong interest in joining it. Ultimately, the Obama administration supported Vietnam's inclusion, but made it clear that if Vietnam were to join, it would have to agree to phase out the tariff and non-tariff barriers that it has relied on to help build up large trade surpluses.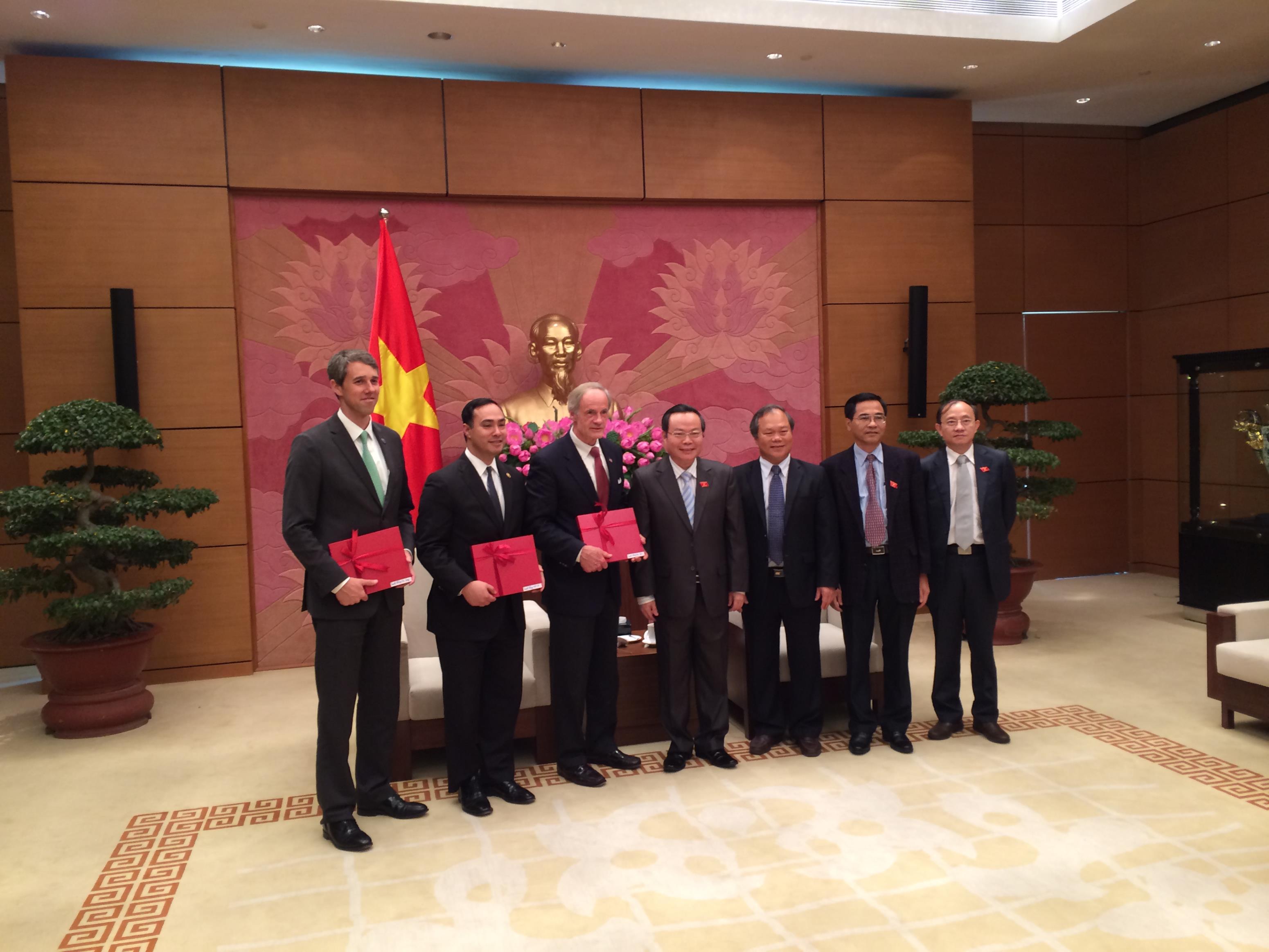 Vietnam has agreed to do so, but even before the Trans Pacific Partnership has been ratified, they took steps this past week that strongly suggest a new willingness to significantly increase their purchase of American products. Vietnam announced, for example, that it would purchase 100 new Boeing 737s in a deal valued at more than $11 billion. Vietnam also announced that it will buy American-made Pratt and Whitney aircraft engines worth $3 billion over the next several years. The decision by the Obama administration to lift the restrictions on the sale of a broader range of military equipment to Vietnam will not only allow that country to strengthen their defensive military capabilities in the face of Chinese sabre-rattling in the South China Sea, it will also serve to further bolster American exports to Vietnam for years to come.
Some critics of the Obama administration have voiced concerns that lifting restrictions on weapon sales gave away leverage in our efforts to encourage Vietnam to release the remaining 100 political prisoners in this country of nearly 100 million people and increase basic human rights such as freedom of expression and assembly. Others – including the President and some Vietnamese dissidents – note that the sale of arms to Vietnam will only take place on a case by case basis. Human rights, they argue, will definitely remain a part of the equation.
Finally, a number of other encouraging announcements emerged during President Obama's visit to Vietnam. Vietnam will now allow independent unions to form and represent workers in their efforts to improve wages and working conditions. Both nations also agreed to continue to promote student exchanges. And a longtime dream, the establishment of a fully independent university in Vietnam — the Fulbright University – is now on the road to becoming a reality.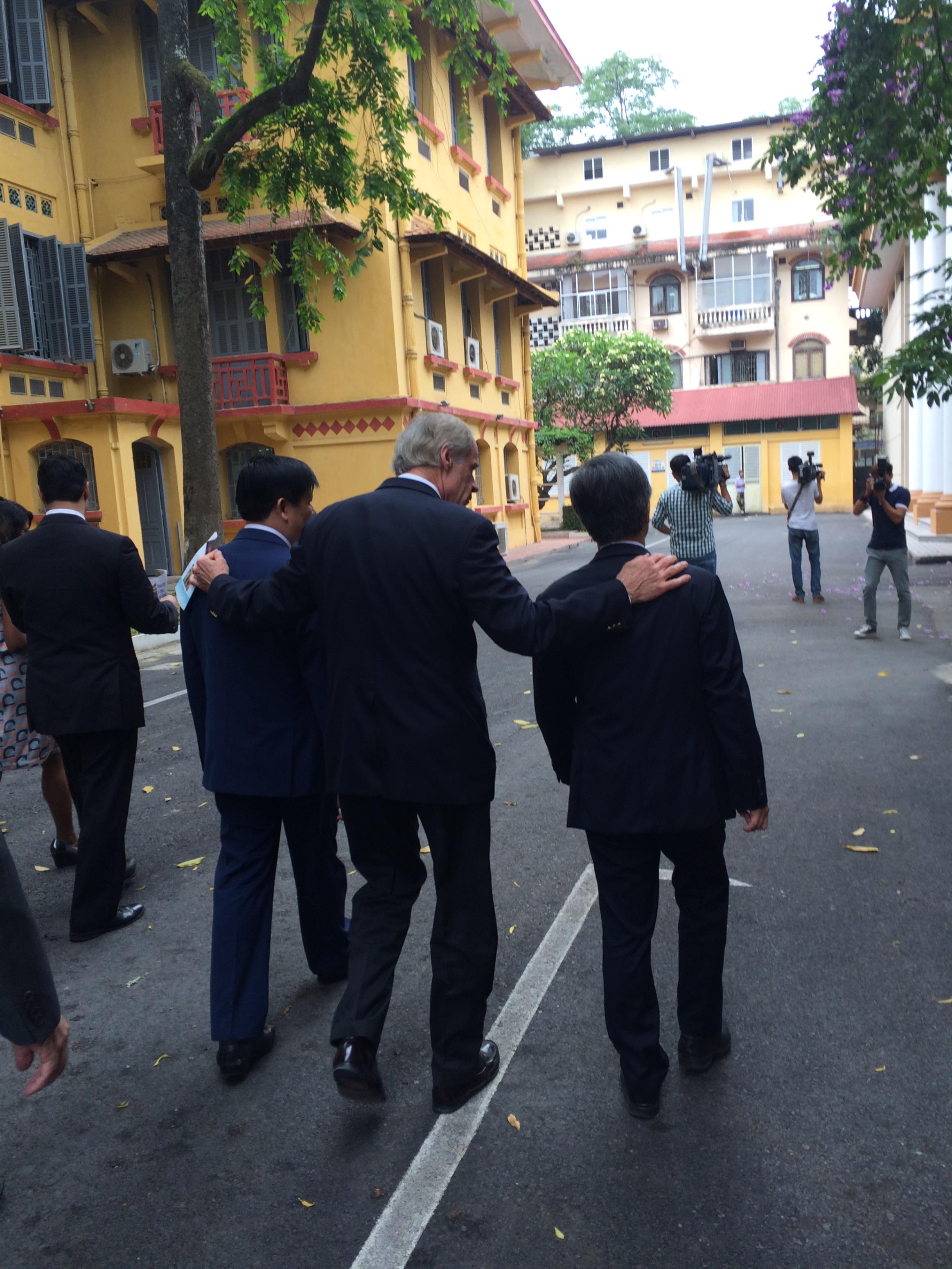 We've come a long way in our relationship with Vietnam since I first visited Southeast Asia during the middle of a war that took 58,000 American lives and many more Vietnamese lives. Yet, somehow, we seem to have reached a point where both countries are prepared to let bygones be bygones and to look for ways to work together in ways that wouldn't have seemed possible not that many years ago.
Another pleasant surprise awaiting Americans in Vietnam is the genuine warmth of the people there toward Americans. It's hard to miss. The image of "The Ugly American" is long gone, hopefully forever. In fact, a recent poll among the Vietnamese revealed that 78 percent of them have a positive view of America and Americans. Ironically, they seem to like our country more than some Americans do!
Let me close with the same words that I used several times while addressing audiences in Vietnam this week. "If you want to travel fast, go alone. If you want to travel far, go together." More and more our two countries are electing to go together. If we do, I'm convinced that we'll end up traveling a lot further than either of us could ever go on our own.