Old Swedes Church Joins the First State National Park
Dear Friends,
The First State may be small, but it has had a tremendous role in the history of our country.
For more than a decade, I worked tirelessly with federal officials, state officials, community leaders and activists in the hopes that one day we could tell Delaware's unique story through a national park. Last December, legislation to create the First State National Historical Park was finally approved by Congress, joining Delaware to the network of states attracting millions of visitors to their national parks each year and generating billions of dollars in tourism revenue.
This week, Old Swedes Church was formally recognized as part of the First State National Historical Park. Old Swedes Church, in Wilmington, Delaware, is the oldest church in the United States that stands as it was originally built and remains in use as a house of worship. It was erected in 1698–1699 by descendants of the Swedish colonists who crossed the Atlantic aboard the Kalmar Nyckel in 1638. The pulpit is the oldest known pulpit in the United States.
Reflecting more than 300 years of American history, Old Swedes Church has a unique story to share. It helps tell the story of our state's early Dutch, Swedish, and English settlement and Delaware's role in helping to launch the most enduring experiment in democracy the world has ever known – the United States of America.
Visitors from near and far will now be able to learn about life for the early settlers of our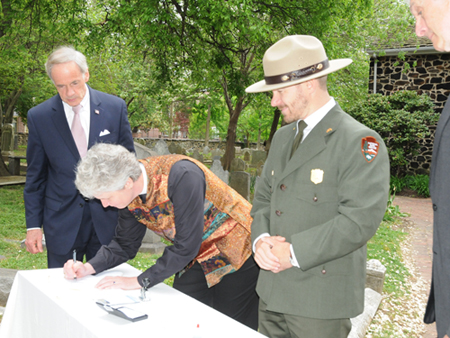 great nation through the story of Old Swedes Church. After many years, our dream of telling Delaware's important story in the settlement and founding of our country is coming true.
I hope you have the opportunity to explore our state's rich history by visiting Old Swedes Church at the First State National Historical Park soon. I invite you to share your photos and videos from your visit on Twitter at @SenatorCarper and on Facebook at facebook.com/tomcarper.
Sincerely,