Dear Friend, 
Did you know that health care open enrollment in Delaware ends in just TWO DAYS?  That's why this week, I spoke on the Senate floor to remind Delawareans it's time for you, your family and your friends to sign up for quality, affordable health insurance before it's too late. I also teamed upwith Westside Family Healthcare and the Rehoboth Art League to remind Delawareans: if you don't get health insurance through your employer, Medicaid, Medicare or the Children's Health Insurance Program, you can find a plan that works for you in the Affordable Care Act (ACA) marketplace on healthcare.gov or choosehealthDE.com from now until December 15th.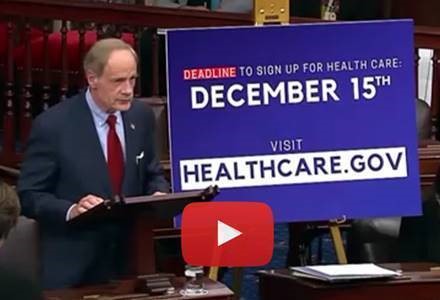 Five years ago, the Affordable Care Act began offering every American in the First State and across the country access to high-quality, affordable health care. Since then, millions of Americans have gained comprehensive health care coverage from the ACA marketplace. At Westside, I heard directly from one of those people – Delawarean G.W. Thompson, an artist in Lewes who, thanks to the Affordable Care Act, has access to quality health insurance for his entire family. When he and his wife were expecting their first child, they were able to find a plan and rate that worked for them and when his family faced health woes and high hospital bills, Thompson was able to breathe a sigh of relief because of his coverage from the ACA – and he isn't alone. From stay at home parents, to entrepreneurs and artists like Thompson, thousands of Delawareans have relied on the ACA for quality coverage.
I also heard from Sara Cruz, a Westside Health navigator, who talked about her experience enrolling Delawareans and discussed helpful tools for families looking to get covered. When Anita from Millsboro needed help navigating the ACA marketplace, Sara drove to a local public library close to Anita's home and went over her health insurance options, how to complete the application and even how she could use the insurance once she was covered. If you need help finding a plan that works for you and your family, people like Sara are standing by for free, in-person assistance.
When it comes to crafting effective policies for our country, I believe that we should find out what works and do more of that. It's clear – the Affordable Care Act is working. This year, 43 new insurers are offering coverage in marketplaces of states around the country for 2020, and in Delaware, premiums are down an average of 19%. That's why now is the perfect time to get covered and find a health insurance plan that works for you.
So help spread the word! You have until THIS SUNDAY to ensure you have health care in 2020 through the Affordable Care Act. Enrollment is easy, and eight out of 10 Delawareans can find a plan for less than $75 a month. Don't wait – visit healthcare.gov or choosehealthde.com right now!
Sincerely,
Tom Carper