Spread the word: Two Veterans job fairs
In the coming weeks, I'm teaming up with Senator Coons and Congresswoman Blunt Rochester to host two job fairs for Delaware's veterans. As a 23-year veteran of the Navy and Naval Reserves, I know well the sacrifices our veterans and their families have made for this country. Their devotion to securing our liberty is worthy of our gratitude and respect. But it is also worthy of our constant diligence in assisting veterans in their transition back to civilian life.
When I returned home after five years in a hot war in Southeast Asia, I took advantage of the Vietnam Era GI Bill and earned my MBA at the University of Delaware. Today, our veterans return home to the Post-9/11 GI Bill—the most comprehensive GI Bill in history that can cover the full cost of tuition and housing at public colleges and universities, as well as career training programs, across the country. But our obligation doesn't end when veterans sign up for classes. We must ensure our veterans attend high-quality schools, complete their studies and job training, and then put that hard-earned education to work.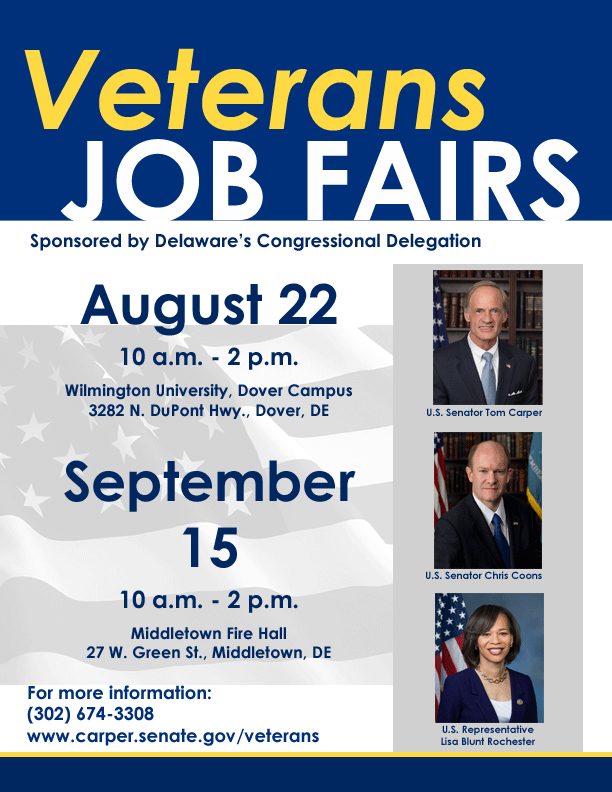 That's why we host job fairs specifically for our veterans in Delaware. Last year, our two veteran job fairs had nearly 100 employers attend looking to hire our vets. This year, Senator Coons, Congresswoman Blunt Rochester, and I are hosting two more job fairs for our veterans. Our first job fair will be on August 22 at Wilmington University's Dover Campus and our second will be September 15 at Middletown Fire Hall. Both are free and no registration is required.
If you are a veteran or know one looking for a career opportunity, be sure to mark your calendar for Tuesday, August 22 and Friday, September 15, spread the word to family and friends. For a full list of attending employers, please visit my website. You can also be sure to find out about future job fairs by following me on Twitter at @SenatorCarper and on Facebook at facebook.com/TomCarper.