It's Tax Filing Season: File Early & File Online
Dear Friend, 
This year's tax filing season has started! The deadline to file your taxes is April 18, 2023, and starting the filing process early is one of the best ways to ensure that your tax filing process is successful. Filing your taxes online helps ensure everything is submitted accurately, and it's also a more secure option than filing a paper return. For those receiving a refund, filing online with direct deposit is the quickest way for the IRS to process your return and get the money owed to you.
When thinking about filing this year, I want you to know that there are free tax filing resources available to help Delawareans:
These are all fantastic resources to take advantage of and do not require any fees or special payment.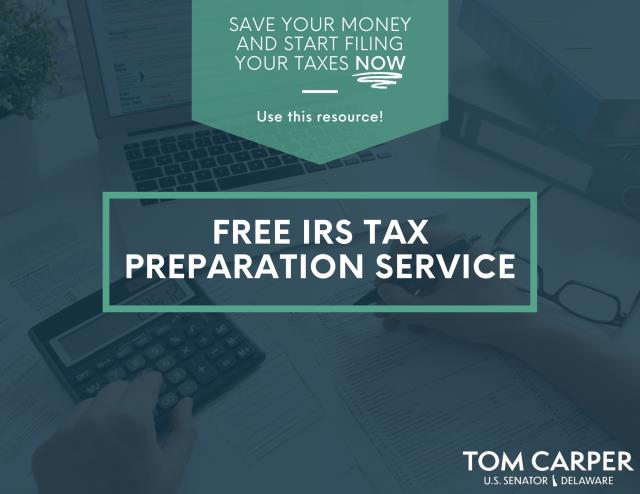 Now, I want to highlight what's different this year when it comes to filing your taxes. For starters, the standard deduction has increased for the 2022 tax year to $12,950 for single filers and $25,900 for married couples filing jointly. The IRS has also adjusted the income tax brackets for 2022 to account for inflation. Lastly, please note that certain tax credits were not extended following the pandemic, and some filers may notice a difference in taxes when claiming credits like the Child Tax Credit (CTC), Earned Income Tax Credit (EITC), and Child and Dependent Care Tax Credit. You can find more information on what's new this year by clicking here.
Last year, I fought to secure new resources in the landmark Inflation Reduction Act to help ease the burden of filing your taxes. I am proud to say that increased funding for the IRS will help the agency provide better customer service to taxpayers in Delaware and across the country, including hiring thousands of additional employees to support individuals who need assistance with their returns. This funding will help to rebuild and modernize the IRS, provide everyday Americans with improved taxpayer services, and ensure that the wealthiest Americans and large corporations pay their fair share.
Filing your taxes should not be complicated and costly. Throughout my career in the United States Senate, I have advocated for making the tax filing process easier on families and hardworking individuals. So, go to IRS Free File to get started on filing your taxes today!
Stay safe and healthy,
Tom Carper